ASA 2011 Greek Islands Flotilla
Or Wining, Dining and Sailing our way through the Islands!
Our flotilla began on July 16th.  It was a warm and sunny afternoon.  My boat known as Maya "the girlie boat" was ready as were the other 5 boats.  We met in Alimos Marina in Athens at a café at the end of the pier.  Alimos is one of the largest marinas in all of Greece and perhaps the Med.  There are 100's of boats lined up Med moored on numerous piers.  There are several café's and tavernas on the marina grounds as well as grocery shops and markets within walking distance.  Announcements and introductions were made; questions were answered; now it was time to find our floating homes for the week.
Each group of sailors boarded their yachts which ranged in size from 41' to 54'.  Several of the boats opted to have a Greek skipper come along and take the stress out of sailing in an unfamiliar and challenging sea and really enjoy their holiday.  If you've never sailed in the Med before it can be a bit daunting, especially when it comes to Med mooring in the small ports.  As I was told on my first trip to Greece "This isn't the Caribbean my dear!"  Meaning it's a bit more of a challenge than I was used to.  I usually recommend a local skipper so you can sail as much as you like and make your vacation stress free.  Everyone got settled in.  That evening we had a brief skipper's meeting at the Skipper's Yacht & Roll Bar and determined that we would sail to Epidaurus which is in the Peloponnese and about a 4 to 5 hour sail from Athens.   We would head out at 0900.
We awoke to light winds and a sunny day.  Everyone was ready to go and we filed out one by one through the narrow exit of the marina.  In Greece they are on the Lateral A buoyage system, red is on your starboard when leaving for sea, something to keep in mind for the week!
Epidaurus here we come, but first we stop for swimming in the clear turquoise water off the small green island of Angistri.  We anchored and took a line ashore to an even smaller rocky island across the narrow channel from Angistri.  Apo (short for Apostolles) one of our Greek skippers arrived first.  He was in the water and helped the other boats tie off their sterns to the rocks once they dropped the hook.  This is a common practice in Greece and allows more boats to fit in limited space.
After a refreshing swim everyone devoured lunch.  We had some brave swimmers come by to sample lunch on board "the girlie boat".   Maria, my first mate and Greek chef who makes the most wonderful dishes was making a delicious meal.  Everyone agreed that we were going to be spoiled this week!  After lunch and basking in the warm Greek sun it would have been easy to lounge about, but we had to get to Epidaurus and find a parking space!  
Late afternoon we arrived in Epidaurus to a small crowded port.  Luckily we had called ahead and reserved a few spaces; it helps to know someone on the islands.  The boats were moored now it was time to do a little exploring.   There are orange and lemon groves lining the north side of the bay.  Several years ago a farmer was digging near his home when he uncovered the ruins of a small amphitheater, currently there is a dig going on where they are excavating an amazing intact theater overlooking the bay.  It's a great hike up to the area to observe the dig and grab a few oranges off the tree!
In the port vendors were setting up booths along the quay for a festival that was taking place that evening.  The Peloponnese with its rich volcanic soil is known for its fruits, veggies and wine.  There were all kinds of food products produced and sold by the farmers in the area.  We bought the most amazing olives, honey, and hand- made olive oil soap, local wine and more.   After strolling through the vendors stalls, we made our way to a nearby taverna were we dined on simple Greek food and homemade wine while listening to the sounds of live music wafting over us from the port.  Watching as the town's people young and old promenaded along the quay our first day was coming to an end.  As the sun set over the sea and the full moon was rising I heard someone say "this doesn't suck".
The next morning we all boarded an air conditioned coach and made our way to one of the most well-known and ancient amphitheaters in existence. The sanctuary of Asclepios (the God of healing) at Epidaurus is a spiritual place worth traveling around the world to visit! In fact the ancient Greeks did just that in order to pay tribute to their spiritual entities in the face of Asclepios, and to ask the gods for remedies for their physical ailments. It was a healing center as well as a cultural center in ancient times. Epidaurus was built round the 3d Century BC and it is adorned with a multitude of buildings most famous of which is the ancient Theater of Epidaurus.
This is one of the very few theaters that retain its original circular "Orchestra" and it is a rare aesthetic sight. During Roman occupation of Greece, most theater "Orchestras" were changed from a circle to a semicircle but luckily The Theater at Epidaurus escaped intact. The view, aesthetics, and acoustics of the theater are breathtaking, as is the feeling I got when I sat on the ancient limestone stone seat–high up–and thought of all the ancients that might have shared this seat with me.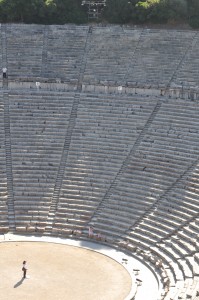 After roaming the grounds, the museum and taking turns speaking and/or singing on the ancient stage, we boarded the bus and headed back to port.  We were headed around Methana a volcanic peninsula, to the island of Poros in the Saronic Gulf a good 4 to 5 hour sail.  Pame let's go!
Later that afternoon after sailing and then motoring in light winds Poros was dead ahead.  Poros town faces the Peloponnese main land, separated by a narrow channel less than two hundred meters wide in some spots, it's a tricky navigation.  In ancient times it was home to an asylum dedicated to Poseidon, the ruins of which are still accessible on a hilltop close to the town.   As you enter through the channel and round the point and head towards Poros town the famous clock tower greets you and under it the white washed houses on the hillside which cascade down to meet the water.  My first thought upon seeing this is "this is a Greek island!"  We found space along the quay for all 6 boats and started with the Med mooring experience.  Dinghies were deployed and I or one of the Greek skippers- Christos or Apo, would ride out to assist those who needed our help in docking their boat.  We were positioned in front of the Yachting Café which made it convenient for picking up wifi from onboard and having an afternoon frappe and ice cream!
Poros is a great island with everything you need from lovely beaches, scooter rentals, cafés, tavernas, shops, etc.  It's also were my friends, Michalis and Sakis are proprietors of a fabulous fresh fish taverna aptly named Oasis.  It's right on the water and we had reservations for a group dinner.  We dined on abundant appetizers or meza, Greek salads, a grilled whole fish complete with head and tail for everyone.  Fresh carpoozi and peponia (water melon and melon) with semolina ( a Greek sweet) completed the feast.  Dinner was wonderful and the atmosphere festive.  After dinner some of the girls from my boat led the way for dancing at Club Malibu, while others slowly meandered back to the boats.  The nice thing about sailing in Greece and Med mooring is that you don't need the dinghy to go back to the boat, you simply cross the passarella (gang way) and you're home!
Tuesday morning, time to sail to Ermioni for a traditional Greek bar-b-cue and toga party!  We motored through the Poros channel and past the ruins of an ancient Roman fort used to guard the entrance to the island back in the day.  Sails went up as we made our way down the Hydra Channel on a broad reach that slowly backed around to a close haul as we sailed the 24 miles to Ermioni.  Before heading to port we stopped for a swim and lunch at a little know tiny island surrounded by reef.  We anchored in white sand in 4 meters of crystal clear water, unlike any I have seen.  No matter how many times I have stopped here I am always in awe of the beauty of this particular place.  It's owned by a dive shop on the mainland and when the dive boats aren't there you are welcome to anchor, otherwise its off limits.
After a wonderful meal of roasted chicken in the oven with lemon potatoes, Greek salads, rich calamata olives and crisp cold wine we weighed anchor and made our way to Ermioni, historically known as the site of the very first recorded regattas.  We headed not to the port but the small fishing village on the outside of the peninsula.  As we motored in the short mile from our swimming spot we past a picturesque light house and Don Quixote style windmills on the hill.  This is a tricky port but well worth it for the view and hospitality of our friends at the Millennium Café.   When you drop anchor you're in 18 to 22 meters of water so you have to time the dropping of the anchor and the backing down to the quay so that you have almost all of your rode out and still have enough to make it to the quay.  Usually the wind is on your nose so you must have out enough scope to keep your stern from hitting the wall; the wind dies down as the sun sets so no anchor watch needed.  With some coaching everyone was securely moored and ready to do some exploring.
Stepping off the boat, the café with its comfortable chairs was literally steps away.  Cold drinks and wifi beckoned us.  Yiasou! Our hosts, Fanny and Necktarius greeted us with a warm welcome and a tray of pink colored shots of some tasty fruity concoction.  While some explored the town others lounged in the café and checked email.  I met with Fanny and discussed the evening's activities and sampled some of the treats planned for the bar-b-que.  It was going to be a fun night and it was rumored that some people had brought appropriate clothing for the occasion.  Later sailors strolled across their passarellas dressed in togas!  We had everything from Grecian Goddesses to Elvis in a toga complete with pompadour and all!  An amazing feast commenced, it was truly an epicurean delight!  After polishing off the last waffles with ice cream and chocolate sauce, we danced into the wee hours to work off all that food!  Maria was the first to start dancing on the tables and soon with encouragement from the Greek crew everyone was in the opa- opa mood!
The next morning we made our way across the channel for Hydra, one of my favorite islands and home to the Hellenic Merchant Marine Academy, artists and a Hollywood film or two.  Hydra is also one of the most beautiful islands in the Saronic as well as a challenge for the captains.  Coming into Hydra harbor you view stone buildings rising up from the port and a monastery high on the hill.  Shops and cafes line the port.  As we make our way in, green to starboard, there are ferries coming and going, water taxis, sailing boats, fisherman and large motor yachts all vying for space.  It can be unnerving, but once safely moored it's all good!  Now time to explore Hydra.
This island is unique in that it has no motorized vehicles and everything is transported by donkey. Donkey rides anyone?  There are no beaches close by, but there are huge tiered slabs of rock that have ladders going down to the sea.  Dive off and float in the salty sea, swim into a grotto and listen to the echo of your voice.  Climb the ladder and stake out your spot on the rocks where you can bake in the sun like a lizard or walk up to the cliff side café for a cold frappe the national iced coffee drink of Greece.  We did some swimming and then made our way to Hydronetta, the cliff side café where it's a tradition to watch a spectacular sunset while sipping a cool drink and listening to an eclectic mix of music that always seems to be perfect for the moment.
After watching another perfect sunset we went back to the boats to dress for dinner and the ASA sponsored party at the world famous Pirate Bar.  Our host at the Pirate Bar, Zeus, greeted us and showed us to our tables.  From our vantage point we could see the boats gently rocking in the harbor and people young and old promenading around the small horseshoe shaped port.  Just as the party was starting to pick up I noticed the wind and the boats' rocking also becoming a bit more lively.  I went back to check the boats and my anchor as the wind built to 25+knots.  I called Maria on the cell phone and asked her to get everyone back to their respective boats.. just in case.
The wind continued to build and we prepared for the worst case scenario, which would have been leaving the port at night and sailing back to the protected bay of Poros.  We got out the PFDs, harnesses and tethers and secured everything down below and waited.  It was a bumpy ride at anchor for about an hour and then the storm passed as quickly as it arrived.  All the ASA boats were still where they were before the storm, but others were not so lucky.  Because of the forecasted winds for the next day, we changed our plan from heading to Aegina and opted to raft up in a lovely cove between Methana and Poros where we would be protected from the high winds.   Thursday mid- day we left on our 3 hour sail tacking up the channel in 15 to 20 knots of wind.
We arrived at the bay late afternoon, dropped anchor one by one and took lines ashore to the rocks.  The boats were rafted up together taking care to stagger the masts and placing fenders where needed.  One boat chose to anchor out and one decided to head to port.  Everyone was in the water for swimming and I led a few divers on the hunt for clams in the secrete clam bay.  An impromptu progressive dinner began as the sailors hopped from boat to boat.  Christos and Apo both cooked and Maria turned out another award winning meal on board the "girlie boat" featuring the fresh clams.  That night on deck there were millions of stars.  I counted at least 7 shooting stars which equals lots of wishes!
The next morning was Friday and we reluctantly headed back to Athens.  Our consolation was a great beam reach sail until the wind died down as we got closer to the mainland, time to turn on the motor and dock the boat one last time Mediterranean style.
Back in Athens our week had ended too quickly.  We all exchanged emails, addresses and facebook pages with our new friends.  It was a wonderful week with a little bit of everything and plenty of memories and stories to take back home.  Flotilla sailing is a great way to meet new sailors, learn, and experience new cultures and destinations all within the comfort of a guide and group.  After the success of this year's flotilla we have added another ASA flotilla in the beautiful Greek Islands for June 9- 16th.  If you missed this one, please join us in 2012.  Details are on ASA's website http://asa.com/pdf/2012flotilla_greekislands.pdf or contact Valerie at valerie@customsailing.net .
Captain Valerie Weingrad owns Custom Sailing Worldwide www.customsailing.net and holds a USCG 100T Masters license and is an ASA instructor.  She is a traveler and just completed her 9th summer sailing in the Greek Islands.